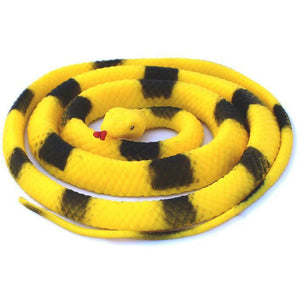 This is one of our most rubbery rubber snakes available! The krait snake is a venomous snake that is found mostly in southern areas of Asia. The majority of krait species are covered in glossy scales that are arranged in bold striped patterns all along the body. It is those patterns that create a camouflage for the snake in areas such as grasslands.

This yellow rubber snake is brightly colored and really stands out!

NOT FOR CHILDREN UNDER AGE 5. Non-toxic, all new material used in its construction. Washable. Hand-crafted.